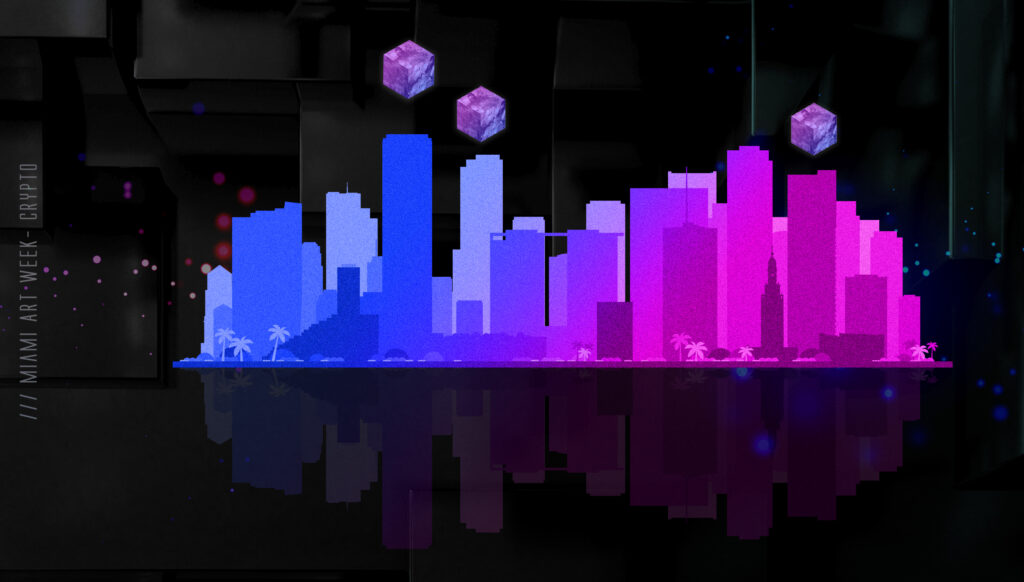 Filled with thousands of Web3 enthusiasts from across the globe, Miami is currently the hotspot for Web3-focused events this year. There has been a string of events in Miami throughout 2022, and our MarketAcross team participated in several of them.
Our experience in Miami over the past few weeks has been overwhelming. We met new people, reconnected with familiar faces, joined panels and discussions, and forged more robust bonds with the Web3 community.
The Inspiring Perspectives Shared At DCENTRAL 2022
2022 was DCENTRAL's second Miami installment, attracting a vast crowd like the prior year's event. The two-day event featured an exclusive lineup of speakers, industry experts, and thought leaders. As part of our conference attendance, we joined three community-focused Web3 events, with MarketAcross's own COO Itai Elizur hosting several discussions. 
Itai was among the keynote speakers for the discussion panel on the topic: "Media in the Age of Web3." Hosted by NFT and Chill's Ty Greenfield, the panel included personalities like Anastasia Drinevskaya (Cointelegraph), Mitchell Moos (Crypto Briefing), and Jerad Finck (Cosmic Wire). The discussion covered essential areas related to the media's role and how it will evolve to meet decentralized web needs.
Besides this participation, Itai moderated a discussion panel on "GameFi, Play2Earn, and What's Next?" Jeffrey Donnelley (MegaFans), Brian Choi (Com2uS USA Inc.), and Brycent CG (LootBolt) also joined this panel.
Both panels brought together a diverse group of experts, supporting highly engaging and informative discussions. Itai, alongside the rest of the panelists, shed light on the state of crypto and Web3 and the road ahead.
According to Itai, "No doubt, the experience was enlightening. Each event was jam-packed with valuable perspectives and viewpoints from the communities shaping the future of Web3, metaverse, and other new technologies. I want to thank DCENTRAL for bringing the best and the brightest minds of Web3 together to explore this new horizon. We look forward to our participation in the next installment of the event."
Miami Web3 Conference & Miami Art Week Also Dazzled
During our time in Miami, we participated in two other remarkable events, including the Miami Web3 Summit at InterContinental Miami. The three-day conference attracted much attention thanks to its star-studded lineup of keynote speakers.
The event featured opening speeches from the Mayor of Miami, Francis Suarez, and Wyoming Senator Cynthia Lummis. Other keynote speakers included billionaire investors Tim Draper and Anthony Pompliano, as well as renowned C-level executives from Web3 and blockchain firms.
From the Miami Web3 Summit, we made our way towards the Miami Art Week to take part in Art Basel's Web3-focused event. Seeing tech and crypto take center stage in an art event was a pleasant surprise. Our team particularly admired the "Generative Art" exhibition powered by Tezos blockchain, NFT marketplace fxhash, and wallet service Kukai Wallet. The initiative took a novel approach to introduce non-blockchain native users to experience the technology firsthand.
Come, Meet us Next Time!
The MarketAcross team had a fantastic experience in Miami. It was overwhelming to see so many Web3 enthusiasts under one roof. It was thrilling to interact with, listen to, and speak about the past, present, and future of Web3.
We realize that the Web3 community needs more of these constructive events to help advance the industry at large. These events provide the perfect platform for bringing together global talent while unlocking networking opportunities that aren't available from online mediums. 
Between the right balance of informative sessions, networking, and social events, these events foster an inclusive environment for users outside the Web3 community. Anyone can participate in these events to learn more about changing technology and what they can anticipate in the coming years.
At MarketAcross, we express our heartfelt gratitude and thank everyone who participated in the events and engaged with us. We cherished every interaction – whether via discussion panels, Q&A sessions, or after-event parties.
We had a great time, and hope you did too! Catch you next year!