Over 3,000 attendees and 250 speakers attended Paris Blockchain Week Summit this year. It was a fantastic event filled with passionate speakers and knowledgeable experts across several areas of the blockchain industry.
The summit was wonderful, filled with exciting conversations and an international community turnout. We thank everyone who came to the event. It was great to meet new people and reconnect with familiar faces.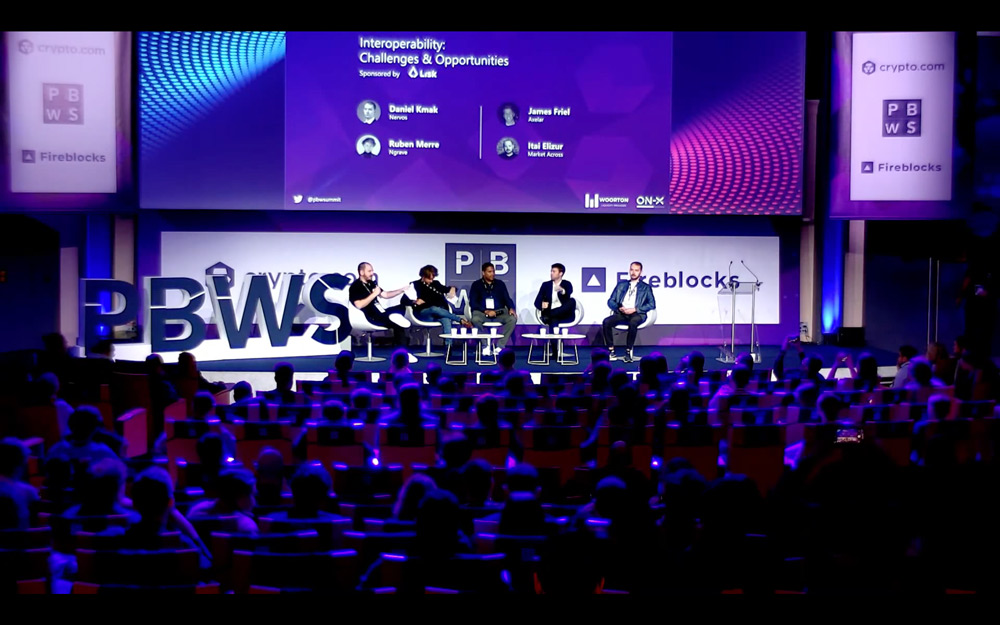 Alongside attending events, the team at Market Across was also involved in some of the panels. Our COO, Itai Elizur, had the pleasure of hosting two panels over the course of the summit. One focused on interoperability within the blockchain. While the second focused on the new working era and the possibility of companies paying their staff in cryptocurrency.
Bringing together a range of experts in the field, the two conversations were highly-engaging. They also brought to light interesting discussions around the state of cryptocurrency and the potential for future use cases.
The expert take on interoperability
Attended by Daniel Kmak (Senior Blockchain Engineer & Developer Relations at Nervos), Ruben Merre (Co-Founder & CEO at NGrave), Samsul Karim (Director of BNB Chain at Binance), and James Friel (Director of Business Development at Axelar), Itai sat down with this power-house cast to discuss the challenges and opportunities that interoperability offers to blockchain. 
The panel discussed Web 3 as a network that is powered by networks. More specifically, the underlying interoperability between chains. That is, the structure and architecture that allows chains to build, rely on, and solve problems by coming together. From security protocols to improving transaction speeds, interoperability is set to help in a variety of distinct ways.
The discussion then turned toward the barriers to interoperability. Each speaker touches on trustedness across chains, compatibility across different data infrastructures, and high demand. 
They then moved on towards security within bridges, commenting on the recent Axie Infinity hack. This led to a discussion about the learning curves that come from the breaking of this infrastructure. As developers learn more, the possibility of secure interoperability will be more realistic and achievable. 
Equally, the panel noted the creation of educational content as a way of strengthening the user's part in choosing secure bridges. As more content is produced that helps educate users on which chains to select and which bridges are secure, the inherent security risk will start to decrease.
The takeaways:
Talking of users, the conversation moved to the user's position in the story, with the potential need to have several different wallets to access all the different interconnected chains. The panel commented that the ideal scenario that companies are working towards would be creating a system that's easy to use, with accessibility to users being a key point that will streamline the onboarding of new users within this ecosystem.
The future of many systems, especially those governed by the panelists, sees interoperability becoming an integral cryptocurrency pillar. Beyond that, the ability to transfer NFTs and other digital assets between chains, will also become a normal ecosystem function.
Interoperability is undeniably at the heart of blockchain. This system is likely only becoming more advanced, streamlined, and secure in the coming years. 
What we learned about crypto as a payment
This panel moderated by Itai was attended by Nick Charteris (GM at Crypto.com), Uldis Terauldkalns (CEO of Nexpay), Sendi Young (Managing Director of Europe at Ripple), and Petr Kozyakov (Co-Founder and CEO of Mercuryo).
Discussing the potential of crypto payments for businesses, the panelists discussed the best practices that could help companies to make the leap, the benefits of crypto for employees, and the potential hurdles that stand in the way of this becoming a working reality.
The main benefits of this system were discussed as bringing unbanked individuals on-chain without needing to rely on centralized systems, as well as the speed of transaction within cryptocurrency, making this a valuable opportunity for businesses.
However, before this becomes a commonly used system, there need to be some major changes. The panel suggested that regulations needed to be tackled, with clear frameworks and global regulations being drawn up that would allow cryptocurrency to exist alongside fiat currencies.
Key learnings:
Equally, the panel commented that in order to turn cryptocurrency from something that's only used as an investment into an active currency used in B2C situations, companies need to create the option to spend crypto in everyday situations. If services don't offer cryptocurrency as a payment system, then it's impossible for people to spend, meaning getting paid into crypto is only an investment, rather than an active financial system.
The panel sees this as a slight chicken and the egg problem – to turn cryptocurrency into an active currency instead of an investment, people need to be able to buy things with cryptocurrency. But, for this to happen, a cryptocurrency needs to be accessible like fiat, rather than being a form of investment.
The panel agreed there is huge potential for crypto to become a global payment network. Even though there are still many problems for us to overcome as an industry.
See you at the next blockchain event!
Thank you to everyone that attended our events and engaged so actively. Both discussions were deeply insightful and shed light on pressing topics within the blockchain event community. To everyone that came out to speak, ask questions, or just listen, we send out a huge thank you!
We can't wait to see everyone again at the next one.