After an impressive week of quality networking, learning, sharing, and food, the future looks bright for next year's conference.
"Rain, rain, go away. Come again another day." That's all I would say to myself during a week of incredible rarities in Tel Aviv. We rarely have three things here: thunderstorms, earthquakes, and global crypto events. Lucky for me (and our visiting guests), all three things decided to show up simultaneously.
Well before the madness of this week kicked off, most of our locals probably thought the same: "Here we go again, another run-of-the-mill crypto meetup."
It all started with Starkware announcing its first-ever event on Israeli soil. Before we could blink, Building Blocks announced they were hosting a second major event.
The truth is that Tel Aviv, one of the world's most fun, lively, beautiful, and tech-forward cities, has been yearning to host a global crypto event since 2019 when Vitalik Buterin joined us for the once-popular Ethereal Summit. Our local crypto community has only recently managed to throw a few underwhelming meetups since Ethereal.
As word spread in December and January, it unexpectedly established the first-ever ETH Tel Aviv, built by community members for the community. It had blossomed in the past two months as local builders showed up in droves to organize more than 25 side events over the first nine days of February.
A firsthand account of ETHTLV
My week started at the offices of Kirobo for a developer-focused meetup in partnership with the folks at BNB Chain. It was an intimate session that included a deep dive into the nature of BNB's ecosystem by Adam Shinder and a fascinating demo by Kirobo's tech team on their new FCT tool designed to help simplify complex on-chain transactions by savvy traders.
The next thing I knew, it was a non-stop marathon of running scootering from event to event. After the dev meetup, it was on to Permissionless Capital's event, with insightful speakers like Shamir Ozery from Algorand sharing his experiences building in Web3.
An incredible turnout at Starkware Sessions 23.'
The following day was when the real fun began for me. I attended the second day of Starkware Sessions, held at a stellar venue in The Cameri Theatre in the heart of Tel Aviv. While I tried my best to sit for a bit and enjoy soaking up information from speakers, it was hard not to keep walking the halls and meeting interesting people from every corner of the world. Venezuela, Belgium, Hong Kong, Australia, London, Singapore, the Czech Republic, the United States, Geneva, and Dubai were just a few places visitors traveled from in the name of ETHTLV. What an honor. 
It was off to Pitango's happy hour later that evening for more mingling and some beers. People were thrilled about what was to come the following morning. That's not before I managed to brave some powerful winds by the beach to attend Starknight, a party to signal the end of Starkware Sessions '23.
We all rose bright and early for the first-ever Building Blocks event co-hosted by 3 Israeli powerhouses in MarketAcross, Fireblocks, and Collider. The main stage for the event was wonderfully set up for meaningful panels by builders from significant VCs, layer one blockchains, DeFi protocols, and of course, DAOs.
Emin Gun Sirer, the creator of Avalanche at Building Blocks 23.'
The day ended with a happy hour on the main floor. While it was initially supposed to be on the roof, the rain couldn't stop us! Speakers received what might be the most incredible piece of swag in the history of crypto events with highlighter yellow construction jackets branded with the 'Proof of Builder' stamp of approval.
Objectively the most incredible piece of swag in crypto event history
Wednesday was an excellent day for decentralization enthusiasts. DAOVOZ was next to host with representatives from popular projects, including BitDAO, DeepDAO, FTWDAO, and Safe. In true DAO fashion, the talks eventually led to meaningful conversations (and debates!) between panelists and audience members on topics such as how to increase the presence of underrepresented groups in DAO leadership, as well as the most effective structures for DAOs to set themselves up for success.
MarketAcross on stage at DAOVOZ with Safe, BitDAO, and DoinGud
I attended DeSci TLV at Collider Ventures offices. Speakers discussed how scientists must reclaim the power that academic institutions usurped over centuries. The mission of the DeSci community draws parallels to the DeFi community. Similarly, they aim to take control back from often federally-backed financial institutions with a monopoly on fiat money. In the same sense, academic institutions monopolize the flow of valuable scientific information.
While I was at the Collider event, MarketAcross co-hosted an event with COTI, CVI, and Monkey League on scaling Web3 businesses to the masses.

MarketAcross at a Web3 event co-hosted by partners from the COTI ecosystem
Wrapping up a wild week at ETHTLV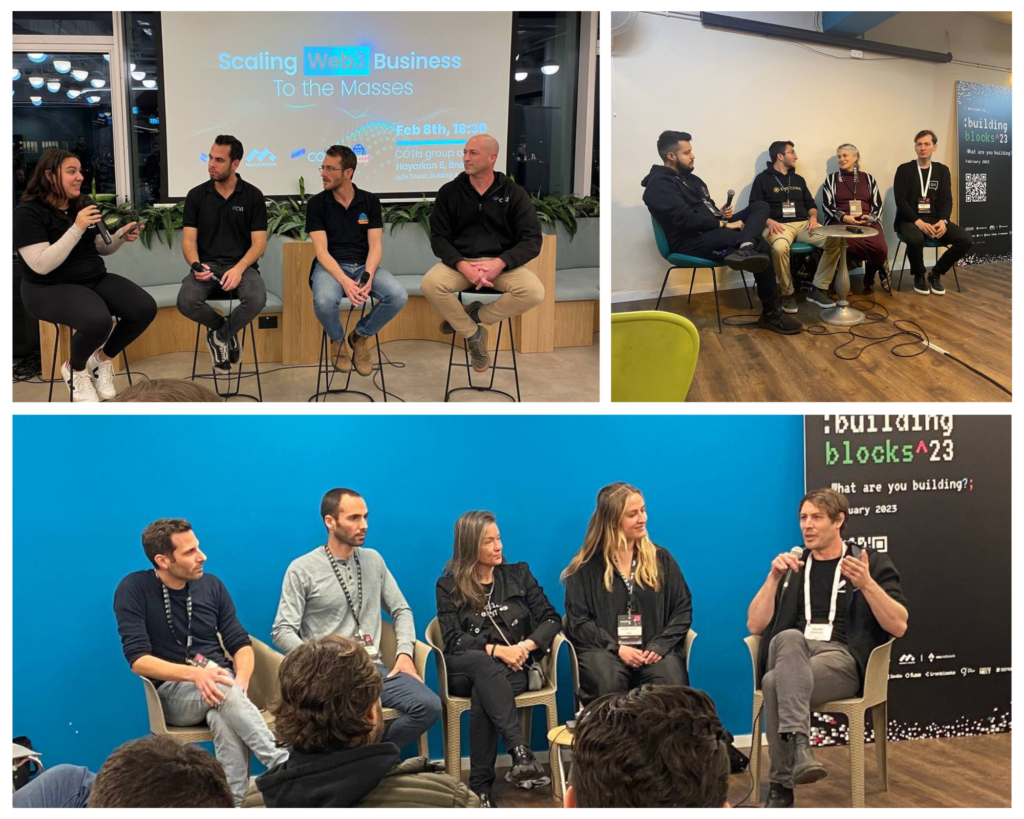 Just want to give a massive shoutout to the MarketAcross team for all the incredible work done across the board. Whether it was our CEO, Elad Mor, moderating a panel at Building Blocks, or our very own Leora Schreiber leading a panel on the successes of Web3 marketing, I found myself being very proud to wear the MarketAcross logo.
We love going to events, and we hope that our excitement shined through. After months of hard work, the result was an awe-inspiring community-driven effort to get together, connect, share, and learn about the most pressing issues and developments in this relatively tiny but influential world of Web3. Having honest conversations and helping your newfound 'frens' connect the dots to build better, faster, and more secure products is what this week was all about for me.
I want the folks in the DeSci crowd to make me a cloning machine so I can attend all the events going on simultaneously.
Tel Aviv will be ready for you in 2024. See you next year!